040 TKp Slask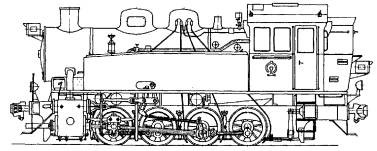 Builder
Fablok Chrzanow
Year built
1952
Works number
2667
Weight in working order
66 tonnes

(coaled

- less than the 16.5 tonne axle load)
Length over body
10 980 mm

(36 feet 0 inches)
Maximum speed
50 km/h

(27 mph)

Boiler pressure
14 bar (210 psi)

2 Friedmann injectors

Pop-Coale safety valves

Power
800 hp
Grate area
2,19 m² (23,57 sq.ft.)

Driving wheel diameter

1100 mm

(3 feet 7 inches)

Fuel capacity

Coal - 3.5 tonnes.
Water - 6.5 m3 (1'429 gallons)

This loco can haul 2,200 tonnes on the level.
| | |
| --- | --- |
| | |
This E 4/4, as it is called in Switzerland, is the largest machine on the VVT currently in working order. It is also our newest acquisition. It was one of a series of 390 units (of which 102 were built for China), built in Poland after world war 2 for heavy industry. Several examples of this machine, derived from the diagrams of the German works of Henschel and Sons in Kassel, are still in service in Poland and in China. This loco was still in service until 1991. Then, Interlok in Pila restored it to demonstrate their ability to repair steam engines. When the VVT purchased this machine, additional work was required (for example new tyres). Despite the overhauk carried out at Pila, before coming to our depot, we had to carry out numerous modifications and repairs.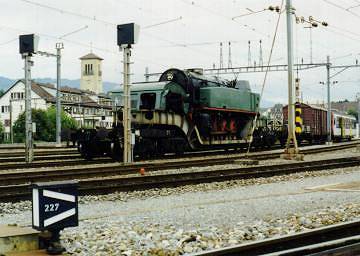 The Slask is the only locomotive we have purchased as "completely overhauled" however in 2000, the left by- pass valve stuck open at Bouveret. We had to replace the two elements against the modern steam gates after the Le Bouveret - St-Sulpice trip. We took this opportunity to renew all the cylinder lubrication pipework. In 2002 this machine was in the depot for two months as the steam inlet pipes had worn out and had to be renewed. Whilst this work was taking place we also replaced the boiler water level gauge glasses with Klinger ones and installed two new injectors purchased in Meiningen as the old ones were unreliable.
Supplementary information (in french)
http://www.voisin.ch/vvt/ : 26.07.2007