E 3/3 "Tigerli"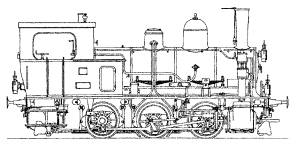 Builder
SLM Winterthur
Year built
1911
Works number
2134
Weight in working order
34,9 tonnes
Length over body
8715 mm

(28 feet 7 inches)

Maximum speed
45 km/h (25 mph)
Boiler pressure
12 bar (180 psi)
Power
350 hp
Grate area
1,2 m² (12,91 sq.ft.)

Firebox

5,5 m² (59,18 sq.ft.)

Total heating area (134 tubes)

63,1 m² (679 sq.ft.)

Driving wheel diameter

1040 mm

(3 feet 5 inches)

Wheelbase

3320 mm

(10 feet 11 inches)

Fuel capacity

Coal -1.7 tonnes,
water 4.2 m3 (923 gallons)
| | |
| --- | --- |
| | |
Tigerli, named because of it's power and it's appearance (a small black machine with yellow bands originally) was part of the largest order of Swiss shunting locos of which 83 were constructed between 1902 and 1915 for CFF. Other examples of the same type were ordered by industry or private railways. One interesting modification which took place was that two locos were fitted with pantographs and electric heating to compensate for the lack of coal, and these locos also received a supplementary coal bunker at the rear of the roof. During the 1960s when state railways were being closed down these machines found work in industry and so lasted much longer than other types of loco. This is the main reason why today one can admire 20 CFF locos and 9 industrials. Withdrawn from service in 1960 by CFF, our loco, number 8511, worked in Geneva Gasworks, who gladly offered us the loco on the 14th June 1987 for a term of 10 years from the date of it's first steaming after we offered to restore it to working order. Numerous examples are preserved by various societies, which allowed us to paint our "Tigerli" in the colours of the french Nord railway.
Links :
Video 1965, working in Genevy Gasworks : http://www.notrehistoire.ch/video/view/315/
More information about these shunting locomotives from the Swiss railways
http://www.voisin.ch/vvt/ : 05.05.2016