E 3/3 KM 16388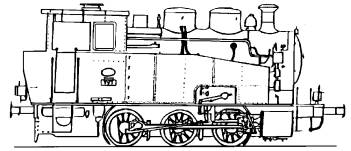 Builder
Kraus-Maffei
Year built
1942 (1943* et 2000*)
Previous numbers
16388
Weight in working order
43,8 tonnes
Length over body
9 400 mm

(30 feet 10 inches)
Maximum speed
45 km/h (25 mph)
Boiler pressure
12 bar (180 psi)
Power
400 hp

Grate area

1,6 m² (17,22 sq.ft.)

Driving wheel diameter

1100 mm

(3 feet 7 inches)

Fuel capacity

Coal - 1.7 tonnes,
water 6.25 m3 (1'374 gallons)
| | |
| --- | --- |
| | |
Built in 1942 by Krauss-Maffei in Munich, this loco carried the livery of Ranshofen Aluminum Foundry at Branau Am Inn in Austria where it was used as a shunter. 8 other locos of the same type were also working for the Voest factories also in Austria. After much discussion, we finally received a favorable response to our request to purchase this loco. After an eventful journey lasting two days and two nights the loco finally arrived at St-Sulpice on the 25th July 1986. Restoration work lasted for a year. On the 30th July 1987 the first acquisition of the VVT went into service. On the 75th anniversary of the BLS, it hauled a special train to Interlaken, where it represented the French speaking Swiss at Rail-In '88. As it hauled almost all the trains of the VVT for 7 years, it can be considered the mascot of the association. A peculiarity with this machine is it's steam bell. The boiler had been rebuilt in 1943 as a result of signs of boiler fatigue after it had been hauling numerous trains without problems. As the steel used at the time was of poor quality we ordered a new boiler from Interlok at Pila.
Works, year after year :
2000-2001 :
2002-2003 :

Reconstruction de deux coquilles de bielles
Révision de la vanne d'extraction
Suppression du jeu aux patins de crosses
Construction d'une réhausse à charbon

2005-12-24

Boiler inspection ... You can visit it !
The Austrian Steam Base contains locomotives situated in the Republic of Austria or locomotives outside Austria, which are of austrian heritage.
You'll find there the Krauss-Maffei KM 16388
Since 1995 an elder sister of our Krauss-Maffei loco runs on the museum line S.T.A.R. on an old freight line in Holland.

This machine which was built in 1936 has been purchased by VEHE Dollnstein-Rennertshofen. It hauls old Biho carriages of OBB. Further information

here.