E 2/2 "Cham"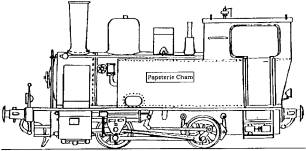 Builder
Henschel
Year built
1925
Works number
20593
Weight in working order
26 tonnes
Length over body
7 600 mm

(24 feet 11 inches)

Maximum speed
30 km/h (16 mph)
Power
~ 200 hp
Grate area
0,93 m² (10,01 sq.ft.)
Driving wheel diameter
950 mm

(3 feet 1 inch)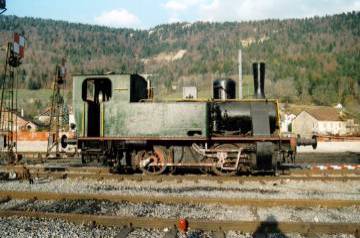 This is an industrial loco built by Henschel at Kassel, which worked until 1962 at Perlen papermill, then at Cham papermill. In 1973, this loco was acquired by Monsieur Jost Peikert but remained in service at Cham-Tenero AG. The loco was stored from 1981 until the 3rd August 1988, the date on which it arrived at the VVT at St.Sulpice on a low loader, offered to us on condition that we would eventually restore it to working order. The mechanics of the loco were in good condition, but the work to overhaul the loco wasn't started due to a lack of personnel. It was necessary to remove and overhaul all the steam pipes, retube the boiler etc…before being able to comply with the conditions imposed. One peculiarity of this loco is that the boiler is fed by two water pumps (there are no injectors). We would appreciate any information (history, drawings, photos) about this machine, due to the fact that our archives are very limited on this subject.
http://www.voisin.ch/vvt/ : 26.07.2007