E 3/3 855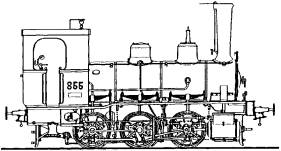 Builder
SLM
Year built
1890
Works number
631
Weight in working order
27 tonnes
Length over body
8 440 mm

(27 feet 8 inches)
Maximum speed
40 km/h (22 mph)
Boiler pressure
10 bar (150 psi)
Power
300 hp
Grate area
1,2 m² (12,91 sq.ft.)

Driving wheel diameter

1030 mm

(3 feet 4 inches)

Fuel capacity

Coal 0.8 tonnes,
water 3 m3 (659 gallons)
This was 20 years long the oldest loco on the VVT. Successively in service with the JS, CFF, RVT. Until 1973 at Von Roll in Gerlafingen.
Origin :
18 locos of this type were built by SLM of Winterthur, of which 6 were for the Jura -Simplon company. Locos 853 and 855 were part of a series of 4 machines (853-856) which entered service in 1890 and were based on a previous design, 851 and 852 ordered in 1875 by the old Jura-Bern-Lucerne company (JBL) and numbered 201 and 202. Numbers 853 to 856 were ordered in 1888 by this same company which, at the time of delivery had changed it's name to the Jura-Simplon. These shunting locos could also be found on the Sihltalbahn Network (SiTB), Langenthal-Huttwil-Bahn (LHB) ,and Huttwil-Wolhusen-Bahn (HWB).
E 3/3 631 (ex JS 855, CFF 8175, RVT 8, Von Roll 11) :
This machine received the number 855 before being recovered by the CFF in 1902 and working as E 3/3 8175.
Since 1911, after having a new boiler fitted it has carried the number 8 as a loco of the RVT network, where it was fitted with a Hasler tachograph, Westinghouse air brakes, as well as steam heating pipes.
In 1928, it returned to Von Roll at Gerlafingen where now carrying the number 11, the firebox was replaced in 1949, thus extending it's life. This loco worked in the factories at Gerlafingfen and Klus.
In 1973, the Duby Foundation recovered it and entrusted it to CFF with the intention of it entering the transport museum at Lucerne. The CFF loaned the loco to the Bern Steam Railway who used it until 1983 for running in Sensetal. Then this beautiful loco was stored, out of service, at Fribourg depot. In 1987, it was offered to the VDBB.
In 1988 it arrived on the VVT, on it's old stamping ground….ready to be taken care of. As this loco was in a very poor condition and parts of the motion had to be renewed, the overhaul has been deferred until later. However we can state that it will be restored to working order in memory of it's old employer, as RVT No 8.
A similar machine, number 853 (CFF 8573 - RVT 7 - Von Roll 10) is in service with the Bern Steam Railway.
For supplementary information (2007 => today), please visit this page in french or german or ask for an automatic translation by Google
http://www.voisin.ch/vvt/ : 21.03.2008